The Sangha
In Buddhism, the group of people who practice together is called a Sangha. A Zen Sangha is formed around a teacher and a core of dedicated students who are committed to the serious practice of zazen. Around this core are others who are investigating, exploring, and experimenting with Zen. Some people practice in this way for many years without making any formal commitment through ordination. They are an important part of the Sangha and are free to practice in this way.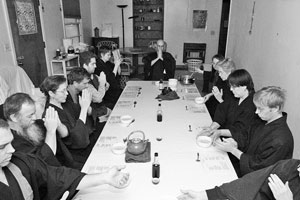 The Sangha that practices with Tony Bland is comprised of three sitting groups: two formal ones located in Starkville and Jackson, Mississippi, and an informal one in Hattiesburg. Tony, who lives about 25 miles from Starkville, serves as an itinerant teacher for the groups. He currently sits twice a week with the Starkville group, twice a month with the Jackson group, and quarterly with the Hattiesburg group. Periodically, Sangha members have the opportunity to get together for longer periods of practice, known as retreats or sesshins. Tony also maintains a connection with the New Orleans Zen Temple and occasionally participates in sesshins there. Students from the New Orleans Sangha often attend sesshins in Starkville as well.
The sitting groups in Starkville and Jackson were established in 1995; the Hattiesburg group was established in early 2011. Their locations vary: in Starkville the Sangha meets for zazen and sesshins in a modest residence in a 1950's neighborhood; in Jackson the Sangha meets at a meditation hall at the Wolfe Fine Arts Studio; in Hattiesburg zazen is held at a private studio, the Yoga Room.
Like any collection of human beings, the Sangha is a fluid organization, changing over time as people come and go. This Sangha is a diverse group of men and women, mostly in their 30's and older, but practitioners of any age are welcome. All, including the teacher, are lay practitioners who are actively involved in work and family life. Currently, all of the sitting groups are small; a typical zazen session or sesshin usually consists of fewer than ten participants. Despite the small numbers, each sitting group contains dedicated students who have practiced several years, as well as those investigating and experimenting with the practice to see if Zen is right for them. Each person is urged to develop their own practice, and everyone, especially newcomers and visitors from other Sanghas, is welcome.