The Teacher
The teacher for this Sangha is Tony Bland. Tony is a 70-year-old Zen monk who has been practicing Zen since 1984 and teaching since 1995. Although he has occasionally attended retreats led by other teachers, all of his formal training has been under the guidance of his master, Robert Livingston-Roshi, founder of the New Orleans Zen Temple. In 2004, Tony received the shiho (Dharma transmission) from Livingston-Roshi, thus becoming a fully authorized lineage holder and independent teacher.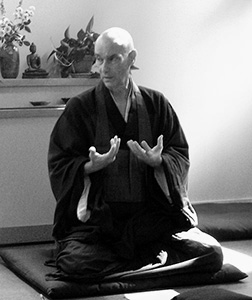 Tony was born in Starkville, Mississippi, in 1946 and grew up in the nearby small town of Cumberland, where he attended elementary and high school. He graduated from the University of Mississippi in 1968, served in the Navy, helped on the family farm, and worked as a carpenter before getting a master's degree in counseling from the University of Arkansas in 1980. He has spent most of his professional career as a counselor and psychotherapist, mainly in New Orleans. He has a biological daughter and an adopted son, both of whom are now adults, and two grandchildren. He returned to the Starkville area in 1994 and currently lives near Cumberland on land he inherited from his parents. His intent is to build a place there to practice and hold longer retreats.
Tony was first exposed to Buddhism through a course in world religions that he took in college. He felt an affinity with the Eastern religions, particularly Hinduism and Buddhism. Several years later his interest in Zen kindled through his study of psychology, particularly the Gestalt therapy of Fritz Perls. In 1981, he attended a four-day Zen retreat and felt an intuitive sense that this was a path he wanted to seriously pursue.
In 1984, while living in New Orleans, Tony began practicing with Robert Livingston, an American disciple of Taisen Deshimaru, a Japanese Soto Zen Master who had begun teaching in France in the late 1960's. After Deshimaru's death in 1982, Robert moved to New Orleans, bringing Deshimaru's style of practice to the United States. Tony continued to practice with Robert, receiving lay ordination in 1985 and monastic ordination in 1992. He became an official shusso (abbot's assistant) in 1998, and received the shiho in 2004.