What Happens in a Sesshin?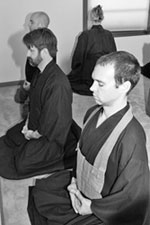 A sesshin is a period of concentrated Zen practice and is common in all Zen traditions. Sesshins vary in duration and intensity in the various traditions and lineages. A sesshin may last anywhere from one to nine days and sometimes longer during "practice periods," when several sesshins are held in succession. With the exception of Rohatsu, our sesshins currently last one or two days and are held at the Starkville Zen Dojo. They are based on a form designed by Deshimaru and used at the New Orleans Zen Temple. A sesshin typically includes zazen, kinhin, ceremony, samu, some type of verbal teaching, opportunities for dokusan (private meeting with the teacher), and sharing meals together. Silence is the norm, but quiet speaking when necessary is permitted during work periods. A typical schedule for a one-day sesshin is as follows:
Friday (optional):

7:30 Zazen

Saturday:

5:15 Wake-up
6:00 Zazen/Kinhin/Ceremony
8:00 Genmai (traditional breakfast)
8:30 Samu
11:00 Zazen/Kinhin
1:00 Lunch/Rest
2:00 Samu (dokusan available)
3:30 Zazen/Kinhin/Ceremony
5:00 Refreshments (sesshin ends)
Rohatsu is a special sesshin held in early December in commemoration of the Buddha's Awakening. It lasts one week, beginning Monday with a three-and-a-half-day preparation period, which involves early morning and evening zazen with samu during the day. The sesshin proper begins early Thursday afternoon and runs through Saturday midnight. There is more zazen, up to four 40-minute periods with kinhin and a short break between each one. There is no work practice, and strict silence is maintained throughout.