Schedule and Events
Zazen
Sesshins
Workshops

Starkville

Tuesdays: 6:00 p.m.
Saturdays: 10:00 a.m.

Hattiesburg

Wednesdays: 6:00 p.m.
Sundays: 4:00 p.m.

Jackson

Sundays: 10:30 a.m.*
Wednesdays: 7:00 a.m.

For the Starkville and Hattiesburg groups, please contact us for an orientation session prior to your first zazen period.

*The Jackson Zen Dojo asks that you first attend a regularly scheduled orientation, conducted the third Sunday of every month at 9:30 a.m., or by appointment. Please join us at this time.

Autumn/Winter 2017

Saturday, September 23
Saturday, October 14
Saturday, November 18
Rohatsu, December 4-10

For more information or to register, email us.

Unless otherwise indicated, sesshins are held in Starkville.

Introduction to Zen Buddhism

No workshops are currently scheduled. Please check back later for information on upcoming workshops. For more information, please see the description below.
Tony's Travel Schedule
Jackson: Sunday, January 7
Jackson: Sunday, January 21
Hattiesburg: Sunday, January 21
Zazen
The regular practice of zazen is the heart of Zen. It is the simple act of sitting upright, concentrating your posture and your breath, and paying attention to what is actually occurring in your body and mind without becoming entangled in your thoughts, just letting them come and go.
Normally we sit in zazen for periods of thirty to forty minutes. A zazen period may also include walking practice (kinhin) and a brief ceremony that involves some chanting and gestures of respect (gassho and sampai). Zazen periods are usually silent, but the teacher may give verbal teaching (kusen) from time to time. The practice is formal in the sense that we follow respectful ways of conducting ourselves while in the dojo. The teacher and many students dress in the traditional robes (kimono/kilomo and kesa/rakusu) but any modest, comfortable, dark-colored clothing is fine.
Prior to joining us for zazen in Starkville or Hattiesburg, please schedule an appointment to meet with a teacher or senior student to be shown the posture of zazen and appropriate conduct while in the dojo (for more, see About Zazen).
The Jackson Zen Dojo requires that you first attend a regularly scheduled orientation, conducted the third Sunday of each month at 9:30 a.m. Please join us at this time. Click here for a map and directions.
Sesshins
A sesshin is a Zen retreat, a period of intense practice, lasting from a half day to several days. During sesshin we practice zazen, kinhin, and ceremony as in our daily practice but also have periods of work practice (samu), and eat meals together. During a sesshin a teacher may offer a Dharma talk (teisho), a question & answer session (mondo), or private interviews (dokusan). Rohatsu sesshin is a longer sesshin with more zazen than ordinary sesshins; it is held during the first week of December and commemorates the Buddha's awakening. (For more, see What Happens in a Sesshin?)
Workshops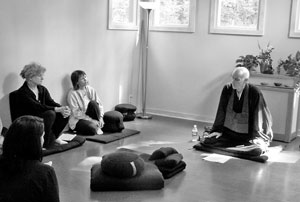 In an effort to introduce people to the teachings of the Buddha, the practice of Zen in this tradition, and himself as a Zen teacher, Tony periodically gives a day-long workshop, "An Introduction to Zen Buddhism." The workshop is designed for those who are interested in practicing Zen and those who are actually practicing as well as those who have an interest in Zen but may not necessarily want to practice in this tradition. As such, the workshop is considered appropriate not only for practitioners but also for those who may be following another path but want to broaden their understand of other religious approaches and practices. Buddhism is a religious practice that stresses the importance of respect and tolerance for all religions, so practitioners of other faiths are welcome.
The workshop is usually held on a Saturday and lasts from 8:30 a.m. until 5:00 p.m. with lunch provided. It consists of Tony giving verbal teaching, with opportunities for questions, answers, and clarifications. For those who actually want to experience Zen practice, a half-day sesshin (retreat) is often offered on the Sunday following the workshop.
Topics covered in a typical workshop include:
The history, main stories, and mythology of Buddhism and Zen
The core teachings of the Buddha, including the four noble truths, the eightfold path, "no-self," and dependent origination
Key concepts of Buddhism and Zen, such as awakening/satori, wisdom, compassion, karma, and samadhi
How to practice zazen (including demonstration and individual instruction): posture, breathing, attitude of mind
How to practice in this tradition: ceremony, dojo etiquette, and teacher-student roles and responsibilities
Workshops are held annually, in the spring or fall, or as per demand.